Please join Channel 9 as we honor the technical community at the Niney Awards on Wednesday, April 13th, 2011 at the Marquee Nightclub main room by 7:15 PM. The show will take place from 7:30-8:15 PM.

Pick up your wristband at MIX11's Channel 9 LIVE booth at Mandalay Bay after the keynotes from 11:30 AM-6:00 PM (or until the limited number of wristbands run out). The wristband
will give you VIP access to the Marquee Nightclub and the Nineys.

The first 20 people to pick up their wristband will get Party Bus Limo transportation from the Mandalay Bay Hotel to the Cosmopolitan Hotel @ City Center.
Enjoy free cocktails!

Appearances and discussion time with Scott Guthrie, Joe Belfiore, Dean Hachamovitch and MORE!

After the awards please join us in the VIP Channel 9 Room in the Boom Box where you will have access to the MIX11 attendee party open bar and dining until 1 AM.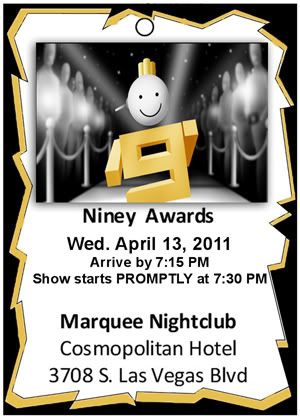 Award Categories that will be featured on Wednesday, April 13th include:

Favorite Channel 9 Show

Favorite Blog about Microsoft

Most Helpful Niner

Favorite Microsoft Blogger

Favorite Channel 9 Series

Favorite Community Show

Favorite CodePlex Project

Favorite Twitter User

Favorite Channel 9 Video

Favorite Audio Podcast

Favorite New MS Technology

Outstanding Innovation