This is a cross-post for one I made on the Neowin forums.
I wanted to go over the history behind why Microsoft made the switch to the Start Screen and why I believe the move makes sense. In particular, I would argue that looking at the design history behind Metro, its wrong to consider it as a "tablet-only UI" -- the first steps towards Metro were actually first made in Media Center, which has nothing to do with tablets at all -- and Media Center in itself was the accumulation of a lot of thinking about basic design issues with Windows.

When Microsoft released Windows 95, it was the culmination of an effort to bring their operating system into a new, modern age -- to bring it on par with the MacOS in terms of user-friendliness, and to bake in a lot of features like OLE automation and context menus that had had already taken off in Windows 3.1. But it was only as soon as it was released, and they had a historic launch touting the ushering in of a new era, that they were facing a new challenge. During the next few years, Microsoft became oriented around tying the Internet into Windows, which brought them into the infamous confrontation with Netscape and anti-trust laws, in what were known as the "browser wars." But the design challenges for Windows during those years were not limited to the issue of making Windows Internet-ready, but to making Windows work in a way that was as easy to understand as the Web. As much as Microsoft had thought they made Windows easier to use, there were still a lot of calls to tech support, stories of "install hell", and complaints from novices that the OS was still too difficult. Apparently, as much as the tech community had embraced the Desktop metaphor and thought it was user-friendly, a lot of novice users still found it confusing. So Microsoft developers were on their feet again, searching for ways to make Windows easier to use.

Before the release of Windows 95, they'd already been thinking about this, and their first attempt to make a more consumer-friendly interface was released in March of 1995 -- Microsoft Bob, which had almost universally been received as a joke.
But the issue remained, and now the Desktop was challenged by a new metaphor, which was a little less patronizing -- the promise of a media-driven, task-oriented Web. Microsoft's experimentation with this began with MSN and something that was known as "Project Blackbird". Blackbird was the code name for a content authoring platform that was meant to be an alternative to HTML, using OLE to create a media-rich environment, with videos, music, images, and other types of multimedia. The design goal was to make the web on par with television in being a consumer-driven content delivery platform. It was also designed to be a front-end on thin client consumer devices, such as WebTV, which Microsoft bought, and which then became known as MSN TV.




While Microsoft was making these plans, along came a threat from Netscape, Sun, Oracle, IBM, and later Novell, together referred to as the "Gang of Five." They proposed something that they called the "Internet OS" -- a browser-based OS that would run on a thin client called a "Network Computer" (NC) and would make Windows obsolete. Marc Andreeseen dismissed Windows as a "bag of drivers", claiming that their goal would be to reduce the Desktop OS to a "mundane collection of not entirely debugged device drivers." In response to that, and the furthered growth of the web, Microsoft took a sharp turn away from Blackbird and looked into ways they could both bolster the Windows with web integration and bring the task-oriented nature of Blackbird and MSN onto the Desktop.

So that went in two directions. The first was a solution to bringing web content to the Desktop; it was an adoption of what was called "push" technology and dubbed "ActiveDesktop". The Desktop would host all sorts of web-enabled widgets that would give the user quick access to the information he wanted.




The second direction was Windows Neptune, a prototype for a task-oriented OS that would replace Desktop Windows. Neptune would feature an HTML-based user interface code-named Forms+ and Universal Plug and Play (UPnP). The goal was to have a Windows PC work as easy as any other consumer device on the market. Neptune was organized into what were called "Activity Centers", such as the "Music Center", "Communication Center", and the "Photo Center", and all information was presented in a clear, friendly, easily readable format.




Originally, Microsoft planned to bake in the concept of Activity Centers into Windows Me (Millenium Edition).


They realized the concept still needed a lot more work than allowed by their release schedule, so work on this was differed and their ambitions were scaled back. Some of the ideas from Neptune did end up in the final Windows Me release, which now featured HTML task-based panels, an enhanced Media Player, and a "Help and Support Center."




In the mean time, Microsoft continued to pursue strategies for consumer and thin client devices, and this ended up resulting in the idea of the "Media Center" PC, the name clearly influenced from the nomenclature used in Neptune for the various "activity centers." With the release of Windows XP, Windows Media Center was announced, as was a Media Center TV, Pocket PC, Pocket PC-based smart phones, and Portable Media Centers -- portable media players designed around the Media Center interface. The launch screen in Media Center was called the "Start Screen."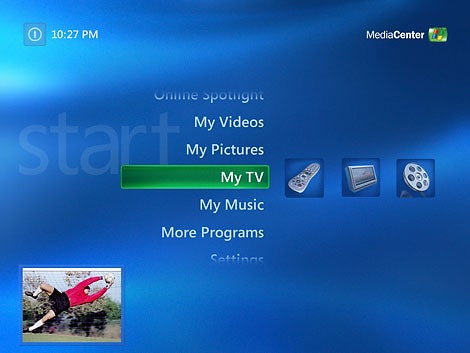 Around this time, Microsoft also started pursuing a tablet strategy as well as the Smart Display -- a device that would work as a monitor when plugged into a PC and as a thin client tablet when picked up and used on the go.




Media Center was pitched as a good "10-foot UX", meaning a good user experience for televisions, where the user would be sitting on a couch with a remote, instead of at a desk with a mouse and keyboard. But it was also pitched for the hand held devices such as PMCs, which would be either button-based or touch-based, and for Media Center laptops, which would run Windows XP Media Center Edition, which would be used either with a remote, a stylus, or mouse and keyboard. Eventually, the Media Center interface evolved to become more sleek and text-and-content-oriented, doing away with unnecessary chrome and icons.




The Pocket PC moved away from Desktop-mimicking designs that were in the previous Microsoft handheld interface, Windows CE. It had what was called a "Today Screen" -- a task-based design like the one Microsoft was incorporating into Windows, and, like the Start Screen in Media Center, can be seen as a precursor for the Start Screen in Windows 8. It had information on new mail, new calendar appointments, new tasks, and any other information the user might need at a glance. Applications could be launched from the familiar Start Menu.




Windows XP, released around this time had "task panes" in Explorer that were influenced by the Neptune prototypes.
By then, Microsoft was facing a new challenge -- a new, invigorated Apple, one which was more oriented than before around creating consumer devices -- and one which was determined to learn the lessons of all of Microsoft's mistakes. The first slap from Apple was OS X, which was already gaining a reputation for being more consumer-friendly than Windows. It also re-imagined the concept of ActiveDesktop, which as it turned out, was rarely used. In OS X, it was called Dashboard; widgets would appear on a separate screen that could be called up with a hotkey, rather than in how it worked in Windows, which relied on users to minimize all of their open windows or bring the widgets to the front.




The second slap was the iPod, a media player device that was more popular and easier to use than PMCs, which were flopping on the market. On top of all of that, Apple was incorporating some search concepts into their next release of OS X that they were developing for the future version of Windows. Losing these battles to Apple would mean letting years of work, planning, and research go down the drain. Microsoft had to act fast, reorganize, and develop a consumer strategy to counter the specter that Apple was raising.

Dashboard, and as a consequence ActiveDesktop, was re-imagined in the next release of Windows -- Vista -- as the Sidebar. Microsoft didn't want to abandon the metaphors of Windows, and this meant the widgets had to somehow sit next to active windows instead of being represented on a separate screen.




Meanwhile, in response to the iPod, Microsoft developed the Zune, which incorporated what was a further developed version of the Media Center interface. Like with Media Center, this wasn't designed for touch either, but button navigation.




Microsoft soon discovered that the Sidebar wasn't used that much more often than ActiveDesktop was, so inched more towards the Apple model -- they moved all the widgets to the desktop and allowed users to see them with a "peek" function -- so the Desktop would now act somewhat like the separate screen in Dashboard.




Later on, Apple released the iPhone, and Microsoft was struggling in trying to update its Windows Mobile interface to be user-friendly. The first prototype for a remodel was what ended up as Windows Mobile 6.1, and was based on the Media Center design. The tasks on the Today Screen now functioned like widgets, having user interactivity in addition to the information display and the ability to launch the app.




To be released in WM 6.5 was the so-called "honeycomb" design, made to be more touch-friendly, where users could select and launch apps easier, and a Zune inspired version of the Today Screen.




The Media Center design had also by this time influenced the look of the XBox Dashboard, which used monochrome (though at first, beveled) icons to represent tasks, but otherwise was heavily centered around graphic and text representations, with little chrome.




The chrome in the look was eventually reduced even further, and the bevels in the icons were gone.




Windows Mobile was still not as nice looking as Zune or Media center, so Microsoft continued to rework the interface, and eventually ended up with the monochrome tile setup you see today in Windows Phone. The "Today Screen" widget interface was merged with the "honeycomb" interface, to be more efficient, the aesthetic of the Zune was adopted, and the design efforts that started that many years back ended up paying off, with the Windows Phone interface being hailed as a success.





Microsoft, of course, always planned to port back these changes to the XBox, which are ready for the pending release.




And back to the Media Center interface in Windows. Except now, the widgets on the Media Center interface, ported from Windows Phone, had the ability to supersede the widgets on the Desktop, and have them work more like Dashboard in OS X, which had still proven more of a success than Desktop widgets -- it was a separate screen that could be brought up with a hotkey. They also had the ability to run the same apps as you could run on the Windows Phone, making it a good interface for a tablet to compete with Apple's now-released iPad. This also had the ability to revive Microsoft's long-incubated vision of the Smart Display -- a monitor you could use with a keyboard and mouse on the desktop, and as a tablet on-the-go.




However, the Start Screen wasn't just a way to cram a touch UI on a desktop device, like some people claim. That was one of its functions. But it also served several other goals. They made the widget system more like Dashboard, renovated the Windows Media Center interface, and made Windows more consumer-friendly and task-oriented, a goal they had since they started working on Neptune and Activity Centers. And as for the touch-friendliness, that goes back to Microsoft's vision for a dual-use device with the Smart Display, not some hair-brained scheme to outwit Apple and save the Desktop environment from the clutches of the iPad.

So to understand how we ended up at the Start Screen, we need to start at Windows Neptune, Activity Centers, ActiveDesktop -- and for fun, Microsoft Bob.
In other words, on the Desktop.