10 hours ago, PopeDai wrote

I see why they went with the approach they did: we're past the days of optical drives, spinning platter storage, and internal expansion cards.
Well, we'll see if they're right about that. The consumer market is one thing, but this machine is aimed at pros who are a little more traditional in their thinking.
But the decision to move to laptop-style integrated GPUs that presumably cannot be upgraded, I'm not to sure about. While it's true that GPU performance has plateaued lately I'm not sure this makes it a good purchasing option: I expect a computer to last 5-6 years, and I'll upgrade the RAM twice, and the GPU after 3 years.
Take a look at the run through on the Apple site. There's no reason why the cards couldn't be swapped in and out (and without a screwdriver), but as you say, we're talking about a very small market (and just because it's feasible doesn't mean Apple will let you do it). A lot of Mac Pro professionals have moved to the iMac + second monitor or a Macbook Pro + second monitor.
5 hours ago, Jsoh wrote

You can get it in any color you want, as long as it's black. I can't tell which of the boards are use replaceable. I would be more concerned about replacing the flash storage, than other components like the GPUs. I find it interesting all this talk about 4K displays without any 4K display announcement.

d) not enough information.
Yup, it has to be black because what Apple has done is put three boards inside a small chimney; silver or white wouldn't really help with the heat dissipation. The components are arranged in a triangle with plenty of space front and back for air circulation. Very nice, and a complete surprise; I think most pundits thought we'd be looking at a return to the Cube, which did have problems with heat.
Looks like the flash storage sits in front of the GPU boards so should be replaceable.
I really like the design; it looks like they've come up with something that should be quiet enough to have in the same room as you (unlike the last Mac Pro, which could roar a bit).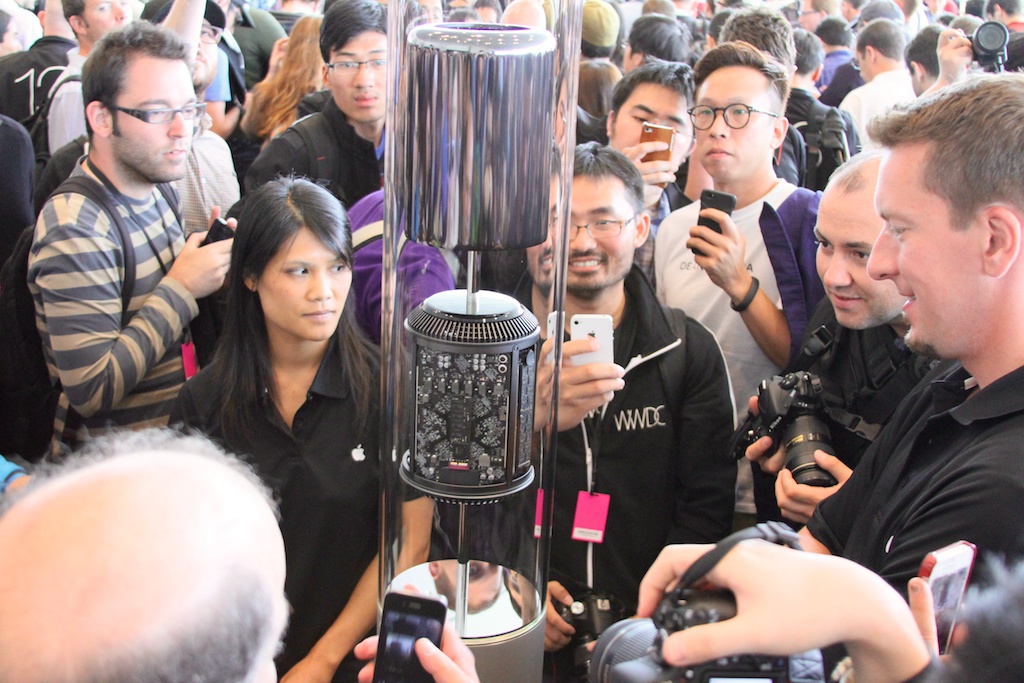 Some more pics at Arstechnica. Yup, that is impressively small, but is it practically small?
Importantly, you can mess around with the insides without turning it on its side, otherwise you'd need chocs to stop it moving.